FRP ROUND BOTTLE SHAPE COOLING TOWER
Cooling Tower Manufacture and Consultant In India
FRP ROUND BOTTLE SHAPE COOLING TOWER
Round shape allows uniform air distribution which optimizes the heat dissipation. Round shape designed casing can withstand high wind velocity, sudden shocks and vibrations.
SYSMAC ENGINEERS takes enough care for perfect sealing of the segment of the round tower by continuous type sealant during erection, so as to give same effect of one piece frp molded casing for better performance of the tower.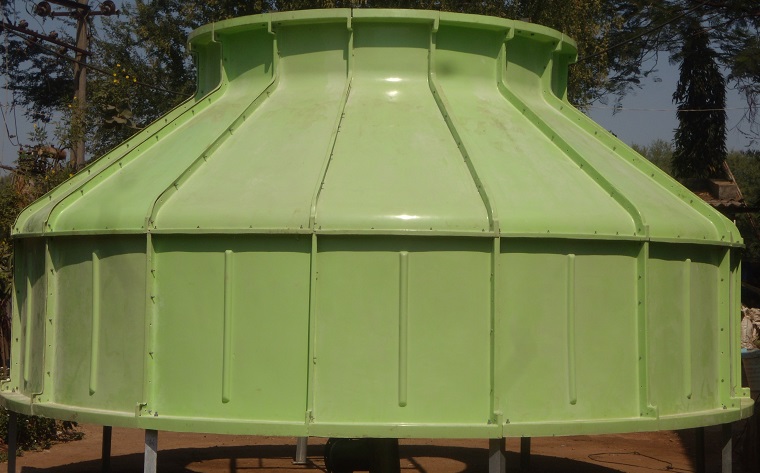 IT USE COUNTER FLOW INDUCED DRAFT TECHNOLOGY
USE FRP/ALUMINUM HIGH CAPACITY FANS FOR AIR FLOW
ALSO USE SPRINKLER TECHNOLOGY FOR EVENLY DISTRIBUTION FOR WATER.
CHOICE OF WATER COLLECTION BASIN IS AVAILABLE.
STRUCTURE BASE ON MS HOT DEEPED GALVANIZED.
WATER DISTRIBUTED BY ROTATING SPRINKLER.
STRUCTURE FABRICATED ON FACTORY AND ASSEMBLED ON JOB SITE.
AS PER CLIENT INSTRUCTION WE ALSO PROVIDE INSPECTION & ERACTION ON OUR FACTORY.
HEAT DISTRIBUTION MEDIUM IS CROSS CORRUGATED PVC FILM FILLS.
CHOICE OF FILLS IS AVAILABLE ON WATER QUALITY.
MODELS AVAILABLE ON 5 TR TO 2000 TR ON SINGLE CELL RANGE.
Are You Looking For A Cooling Tower Manufacturer
We are one of the leading cooling towers manufacturer in India.
Contact Us
Sysmac Cooling Tower Pvt Ltd is one of the Leading Manufacturers of Cooling Towers in India.