FILM FILL MEDIA ALSO KNOWN AS FILLS
SYSMAC offers you a wide range of Cooling Tower Parts.
Film Fill Media Also Known As Fills
'SYSMAC' Provide various type of fills to achieve high efficiency and capacity of cooling towers, specially formed PVC Fills have been utilized which is light – weight, fire safe, decay-proof with unique characteristics of MASS-TRANSFER COEFFICIENT, low pressure drop. Cross fluted design induces high turbulent mixing between the water and air , which increases heat and moisture transfer, The geometry of design also has the advantages of self-distribution of the liquid and gas across the many interconnected channels within the surface material.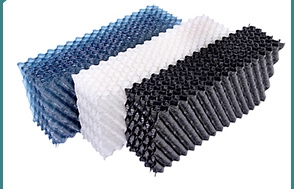 Sysmac Cooling Tower Pvt Ltd is one of the Leading Manufacturers of Cooling Towers in India.